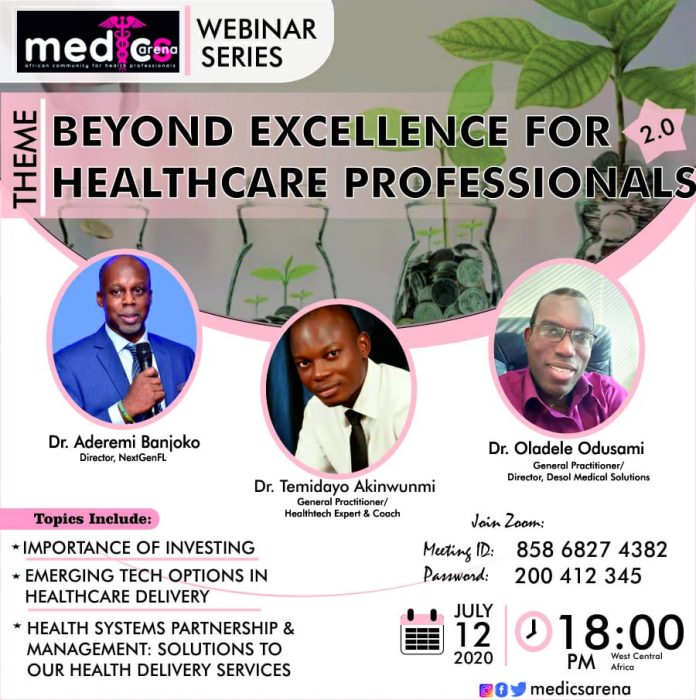 It is here again. The Medicsarena zoom series, July edition will hold this Sunday, 12th, 2020 by 6:00PM (West Central Africa).
Theme: BEYOND EXCELLENCE FOR HEALTHCARE PROFESSIONALS 2.0
Topic 1: Importance of Investing
Facilitator: Dr. Aderemi Banjoko, Director NextGenFL.
Topic 2: Emerging Tech Options in Healthcare Delivery
Facilitator: Dr. Temidayo Akinwunmi, General Practitioner/ Health Tech Expert & Coach.
Topic 3: Health Systems Partnership and Management: Solutions to Our Health Delivery Services
Facilitator: Dr. Oladele Odusami, General Practitioner/Director, Desol Medical Solutions.
Date: July 12, 2020
Time: 6:00 PM (West Central Africa)
Join zoom meeting:
https://medicsarena.com/zoom-meetings/beyond-excellence-for-healthcare-professionals-2-0/
Meeting ID: 858 6827 4382
Password: 200 412 345
The event is free!!
Kindly register on medicsarena for access and amazing benefits.
Join our Telegram channel to get more information
https://t.me/joinchat/AAAAAERYQA1VM4xmq4SAAg