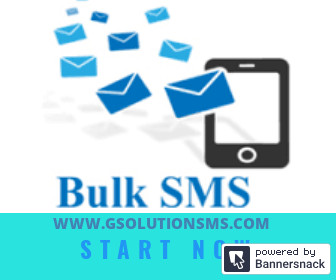 Do you know that many people still take SMS seriously to this day due to its enormous benefits? Here are some of the reasons why you should consider SMS usage for your business:
 1. Higher Degree Of Personalization
Messages on social media don't often carry much weight because they're usually for public consumption. However, a mobile phone is personal to an individual and they will regard a message sent via SMS with more intimacy. Furthermore, messages can be made personal by customizing it.
Personalized messages can increase your sales and customer loyalty by making your customers feel special. Via SMS, you can also send out different kinds of information, such as:
Rewards for loyalty points for consistent customers

Sales announcements
Information about new and upcoming products
Discounts and offers
Information to engage your customers.
2. Affordability
Small scaled businesses and startups must keep their running costs low. Adverts via social media platforms or other forms of media can be expensive, but with Bulk SMS, you can send messages to thousands of people at a very reduced cost. Moreover, with good content write-up, you can gain tremendous results if you work on your copy.
A reliable bulk SMS service provider with applications that has many add-on features to increase the effectiveness of your campaign and software that allows you to send SMS in bulk. The bulk SMS platform is none but Gsolutionsms. We bring SMS solutions to your doorstep 
3. Instant Delivery
SMS response rate is arguably faster than any other medium. All you need to do is prepare a message and send it to your customers with a few clicks. SMS software user interface allows even non-tech-savvy people to understand and work with it quickly because of its simplicity.
4. Augment Other Marketing Techniques
After you have advertised your product/brand to customers and then sending an email to them as another form of marketing, you are likely to make them consider your offer. If you mix these techniques up with a personalized SMS, the customer will be keen on getting your product.
5. It Is Convenient For Both The Sender And Receiver
Bulk SMS marketing helps remove all kinds of inconveniences for both senders and receivers. For instance, there's no need to have a specific time for posting to senders, and receivers don't need to check the message immediately. Unlike social media posts, your SMS won't disappear except if mistakenly deleted.
Messages can be sent at any time of the day and whenever it is necessary, and it doesn't interrupt the receiver. Notification is received and can be checked when you are free. Furthermore, users can reply to your message at their convenience, boosting your chances of engaging them, and fulfilling your marketing objectives.
6. A Global Audience Can Be Reached
With SMS marketing, there is no limit to the people you can reach in as much as you have a good database. Millions of people all over the world have access to a mobile phone, but not everyone has access to the internet. But with SMS marketing, you do not need the internet to read/receive your messages, this makes it easier for you to reach out to as many people as you can all over the world.
Moreover, this reach is almost instantaneous. If your potential customers are in developing countries, SMS marketing can help you get better results compared to other marketing mediums.
 7. Know Your Customer
If you want to get more information from your existing customer, it's crucial to know more about your customers. According to research, SMS marketing has an average response rate of about 31%. This means you can get a response or answers to specific issues/questions within a few clicks since the delivery rate of SMS is almost immediate.
Internet connection is not always necessary when it comes to SMS, but a network. With SMS service, you can quickly respond to your customer queries, which boost their level of satisfaction and confidence. You can also respond with a customized SMS that can be delivered to customers in real-time.
9. Easier To Track Results And Improve Your Performance
You can monitor the performance of your campaign to see which SMS copy is working and which ones are not. By understanding the performance of your campaigns, you can improve on future messages and work on the most efficient strategies for your business.
Gsolutionsms is arguably the best SMS service provider with its cheap SMS rate and immediate response time. We deliver to all networks and even outside the country. You can also become a bulk SMS reseller.
As a reseller you will get a complete SMS website of your own (www.yourbusinessname.com) installed with our robust program that makes it possible for you to sell SMS, manage your members, get orders, approve purchases, view transactions e.t.c.
Visit www.gsolutionsms.com to know more about our services.
Call/WhatsApp: 08186899594