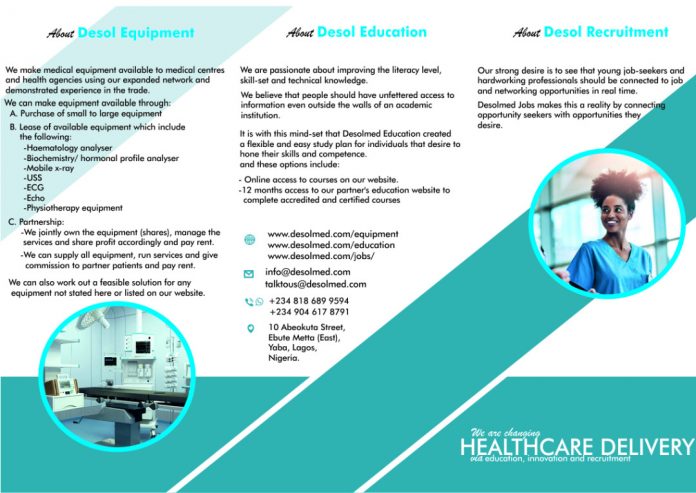 Desol
Medical Solutions Ltd. is a renowned modern medical equipment sales and services company. We will like to acquaint you with our latest packages and options.
Our business options are listed below for doctors, hospitals, clinics, maternity homes and upcoming medical laboratories.
The options are as follows:
A. Buy equipment from us – Small to large equipment. You can visit our equipment site on
www.desolmed.com/equipment
to view our available stock, and if you do not find what you want, you can
call/WhatsApp 08186899594. Email: equipment@desolmed.com
B. Lease – available package for lease are listed below:
g. Physiotherapy equipment
If interested in 1 or 2 or more from a-g, or any equipment not listed above, please let us know.
C. Partnership – this is in 2 categories
1a. We supply all equipment
c. We pay for space rented and give commission to partner
2a. We jointly own the equipment (shares) and manage the services together and share profit according to shares. Rent will be paid for.
Give us a call (08186899594) at a time convenient for you between the hours of 8am – 4pm Monday – Friday and 9am – 1pm on Saturdays or send a mail to info@desolmed.com or desolmedical@yahoo.com for more information and we will respond within 48hrs..
We are eager to hear from you.
www.desolmed.com/equipment