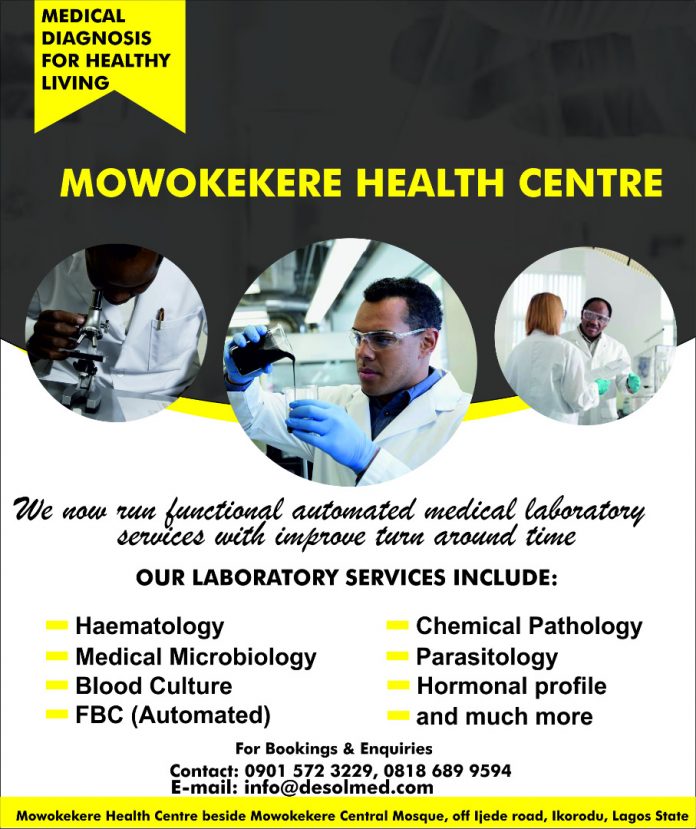 The people of Ikorodu and it's environs now have a fully functional Automated Medical Laboratory closer to them.
Mowokekere Health Centre now runs a modern medical laboratory with Hematology analyzer, Chemistry analyzer, Microbiology, ECG, Genotype etc.
We also run hormonal profile, POC tests such as, H.Pylori, Uric acid, D.Dimmer, Total cholesterol and many more.
We specialize in the following laboratory services:
MICROBIOLOGY
Urine M.C.S, Stool M.C.S, Swab M.C.S, Skin scraping
PARASITOLOGY
Stool microscopy, Urine microscopy, Microfilaria (Skin snip and blood, urine)
CHEMICAL PATHOLOGY
Glucose (FBS,RBS,2HPP, 4HPPS), Lipid profile, Hormonal profile, HBA1c
HEMATOLOGY AND BLOOD GROUP SEROLOGY
FBC (Automation), ESR, Blood film, Blood group and Genotype
Our services is one of the best you can get, and our results are fast and accurate due to our analysers and expert hands.
Kindly visit Mowokekere Health Centre beside Mowokekere Central Mosque, off Ijede road, Ikorodu, Lagos.
Contact: 09015723229, 08186899594
MEDICAL DIAGNOSIS FOR HEALTHY LIVING!