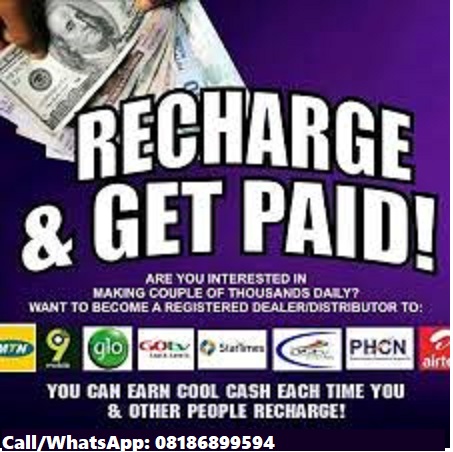 Warren Buffet said when you do not know how to make money while you sleep you will work for those who know how to make it while they sleep.
You need to have a plan B when it comes to making money and surviving in Nigeria and any part of the world.
You cannot have financial freedom on one income but streams of income. No one becomes financially free until he or she can earn income from many sources including your money working for you while you are sleeping.
Recharge and get paid is a good platform to make residual income and also allows your money to work for you while you sleep.
Recharge & Get Paid (RAGP) is a platform that gives you access to recharge your phone directly through Virtual Top Up (VTU) whether MTN, GLO, ETISALAT, or AIRTEL. Every time you or someone through your link purchases a recharge card or data directly as well as cable subscriptions such as DSTV, GOTV, STARTIMES, and Electricity bills, you are paid a commission.
Recharge and get paid is one of the easiest ways to make money either offline or online in Nigeria.