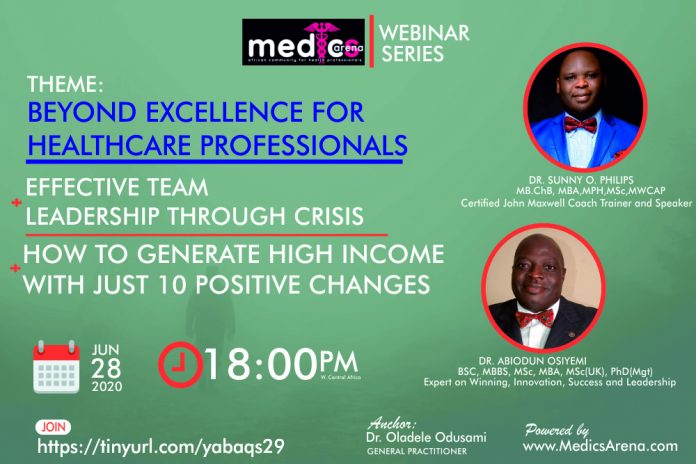 MEDICS ARENA Invites you to zoom conference series.
Main Theme: BEYOND EXCELLENCE FOR HEALTHCARE PROFESSIONALS
Topic 1: Effective Team Leadership : Awareness and Competence
Speaker: Dr. Sunny O. Philips (MB.ChB, MBA,MPH,MSc,MWCAP)
Certified John Maxwell Coach Trainer and Speaker
Topic 2: How To Generate High Income with just 10 Positive Changes
Speaker: Dr. Abiodun Osiyemi (BSc, MBBS, MSc, MBA, MSc-UK, PhD)
Expert on Winning, Innovation, Success and Leadership
Anchor:  Dr. Oladele Odusami
General Practitioner
Date:    Sunday June 28, 2020
Time: 18:00 PM West Central Africa
Participation is absolutely FREE!!
Join Zoom Meeting
https://us02web.zoom.us/j/83618701813?pwd=LzdQa3RISDdQQlhobTdiaW9ad0prQT09