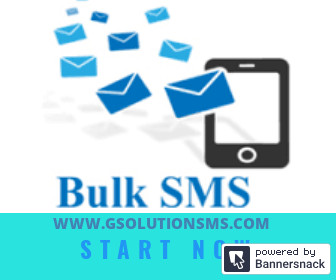 Short Messaging Service (SMS) is one of the most effective channels of engagement many companies use in interacting with their customers.
Bulk SMS is an improved platform capable of sending messages to clients no matter the number at a click. It can be used for conferences, order, and meeting reminders.
With Gsolutionsms, all this and many more can be achieved within a minute. Promotional marketing, sales marketing, and other forms of marketing to improve sales and marketing quality and also reduce marketing costs. It helps increase customer trust.
In this period of social distancing due to the pandemic, bulk SMS can be used by organizations including religious bodies to send vital information to their members. Also, schools can communicate with parents, informing them of upcoming events such as Parent Teachers Association (PTA) meetings and other relevant information relating to the school and the pupils. You can also schedule/automate your messages.
Gsolutionsms gives you the opportunity to reach more customers with faster, more reliable SMS. We also "resell packages" for interested enterprises.
Advantages gsolutionsms.com offers:
• Higher delivery rate
• Wider coverage
• Promote sales
• Reseller package
• Delivery report
Visit www.gsolutionsms.com to register and be a part of the global change.
Call/Whatsapp: 08186899594